Quality Care & Services From Your Veterinarian in Carol Stream
If you're looking for top-notch care from our Veterinarian in Carol Stream, you need to look no further than Carol Stream Animal Hospital. We proudly serve Lombard, Wheaton and the surrounding areas with quality services, using state-of-the-art techniques and treatments that are on the cutting edge of veterinary medicine. Our vets are highly knowledgeable and experienced pet experts whose number one goal is to not only provide loving, attentive care and treatment for pets but to also educate pet owners on the best practices and habits for at-home pet care.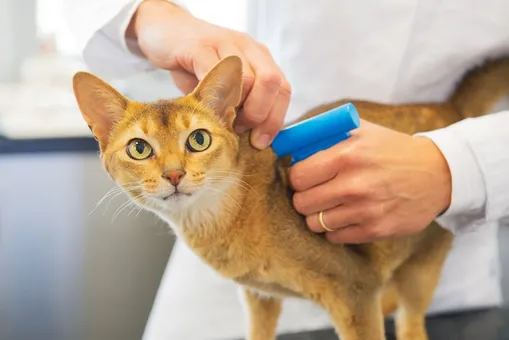 Vet Radiology
Our radiology equipment is competitive with the best in the industry. We use digital x-rays to examine pets and take a closer look at internal issues that may cause problems for your pets. Our x-rays and labs help us make the most timely and health-supporting diagnoses.
Microchipping
A microchip can be the saving grace for a lost pet. Microchips are tiny bar-coded devices which get inserted just under your pet's skin. This chip connects to detailed information about your pet that is stored on a secured central computer network. The information may include the pet's name, medical history, special dietary needs as well the owner's identification and contact information. Additionally, chips may also contain tracking codes that help pinpoint the exact location of the lost pet. This type of technology-enabled device offers peace of mind for pet owners and greatly decreases the likelihood of runaway or stolen pets.
This unique form of identification is an easy yet permanent way to bring your pet home quickly should he/she become lost. The microchip is a tiny electronic device, about the size and shape of a grain of rice. It is implanted beneath your pet's skin between the shoulder blades and stays there for his/her entire life. This procedure is as easy and as painless as a vaccination.
Each microchip has a unique number. This number, along with information about the owner and pet, are added to a national pet registry. Most veterinary hospitals and animal shelters have electronic scanners for detecting and reading these implanted microchips. If a lost pet is found and a microchip is scanned it is easy for the owner to be contacted. We are happy to report that this technology has brought many families back together.
Focused and Personalized Appointment Only Service
We value your time and know that planning a vet visit can take a lot of schedule juggling that may disrupt the course of your day. One of the ways that our customer service sets us apart from other veterinary clinics is that we work hard to accommodate you and your pet's specific needs. If we know that your visit may involve a complicated or cumbersome procedure, we rely on appointment-only services so that we can get you seen quickly, reducing the wait for you and the possible discomfort for impatient pets.
Call Carol Stream Animal Hospital Today!
It's no secret that we love pets at Carol Stream Animal Hospital. From fun community programs to owner education initiatives, Dr. Contreras makes bringing joy and genuine pet appreciation into the practice a major priority. We are more than a veterinary clinic, we are your animal-loving pet professionals who view all of the animals and owners that walk through our doors as added members of our growing pet family. We look forward to meeting you and serving all of your pet care needs!
Call us today and we'll be happy to set up a personalized appointment at your earliest convenience.
Carol Stream Animal Hospital
140 W. Elk Trail
Carol Stream, IL 60188